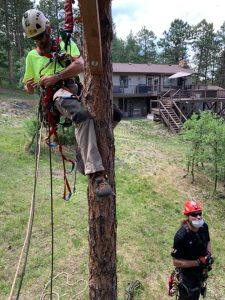 Nathan is an ISA-certified arborist and tree worker climber specialist. He grew up on a farm in Kentucky and was raised to value hard work, honesty, and excellence. He is dedicated to industry safety standards and teaching others. He has over 15 years of experience in the tree industry from municipal urban arboriculture to fire mitigation in the mountains. Nathan founded All Things Vertical, LLC in 2017 to allow him to provide licensed and insured tree services while also teaching industrial rope access and high-angle rope rescue.
He is dedicated to working in the safest manner possible for the public, our people, and your property. He also strives to provide the highest quality tree care following best practices while respecting your time and budget. When not at work, Nathan is a proud parent and volunteer firefighter.
So why would I hire you? That other guy is cheaper. Aren't all tree trimmers the same? 
Simply put. No.
The International Society of Arboriculture defines an arborist as a specialist in the care of individual trees. That means an arborist can determine how to prune your tree to keep it healthy, remove it when appropriate (and safely to save you a homeowner's claim!), plant health care, and even plant trees.
Consider the qualifications of the person working on your trees carefully. Look for professional certifications from the International Society of Arboriculture (ISA) or Tree Care Industry Association (TCIA). Ask to see proof of insurance and call the insurance company to verify. Ask for references. Get more than one bid.
Our mountain community is fortunate to have several locally owned companies from big to small to meet your needs from individual tree pruning to large-scale fire mitigation. Shop local!
Please check out the ISA's website to verify credentials: